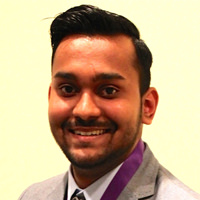 Anirudh Kumar is affiliated and a post-graduate student with Faculty of Medicine (Department of Surgery) and Faculty of Biological Sciences at the University of Toronto. He is currently the Principal Investigator of a Heartfulness Meditation Study. His study aims to study the effect of Heartfulness Meditation on Brain activity. He is further pursing this study model with medical residents as his Masters thesis study.
He was raised in a household where his parents were Heartfulness meditators. Growing up with in this practice of meditation he says he has seen the benifits of this meditation first hand. Hence intriguing him to study this aread of meditation and practice it. He has been practicing Heartfulness Meditation for the last 5 years. He hopes to continue studying Heartfulness Meditation from a molecular biology and psychology perspective.
---
Magazines
A monthly magazine in which we explore everything from self-development and health, relationships with family and friends, how to thrive in the workplace, to living in tune with nature. We also bring you inspiration from the lives of people who have made a difference to humanity over the ages.