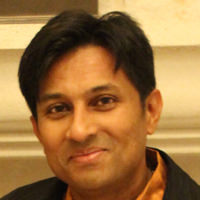 Radheshyam Miryala MD lives in Seabrook, TX with his wife and two daughters. He is a full-time Emergency Medicine Physician in the Greater Houston area where he serves as the Medical Director for Neighbors Health System at the Porter, TX location. He attended medical school and completed residency at the University of Texas Medical Branch in Galveston, TX. After residency, he stayed on at the University where he started his career in academics as an Assistant Professor of Emergency Medicine. He worked in academics for 12 years where he was actively involved in teaching residents and students and caring for patients at John Sealy Hospital's Level 1 Trauma Center. He deeply enjoyed teaching students and residents in the classroom and at the bedside in the busy Emergency Department. He developed training programs in procedural skills and simulation labs. He served leadership roles in various committees, including Billing and Collections, Infection Control, Student Advisory, Faculty and Student Recruitment, etc.
Dr. Miryala is also actively involved with the Heartfulness Institute as a meditation trainer. He hosts weekly group meditation sessions in his home and various other locations throughout the Houston area. He is an avid speaker and has given talks to churches, corporations, and community organizations on wellness, meditation, holistic health, happiness, etc. He has been passionately involved as a volunteer with the Heartfulness Institute for over 10 years where he has been involved in various projects including writing articles, hosting meditation conferences, developing curriculum, etc.
---
Magazines
A monthly magazine in which we explore everything from self-development and health, relationships with family and friends, how to thrive in the workplace, to living in tune with nature. We also bring you inspiration from the lives of people who have made a difference to humanity over the ages.