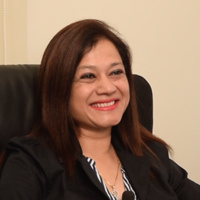 Dr.Snehal Deshpande is an eminent and highly qualified member in the physiotherapy fraternity. With more than two decades of experience in the field of paediatric physiotherapy she has developed into a personnel maintaining the decorum of the paediatric rehabilitation to its high stature.
Dr Deshpande's skilful entrepreneurship as a Director has led to the growth of Sneh…RERC –Rehabilitation,Education and Research centre with the huge team of more than 50 physiotherapists, speech therapists, nutrionists,visual therapists, special educators, clinical psychologists and an ever zealous management team.An accompalishment of 10 centres spanned all across India and Heading the departments in renowned hospitals ,her never say no attitude and the undying source of energy is upbeat.
Along with her massive contribution in improving the quality of life of the differently abled she is also an active Heartfulness trainer. Her natural endowments have been spirituality for all and benefitting the masses for their self-development.
Her focused and spotless ambition towards both academical and spiritual arenas have been unremarkable in the upliftment of the society at large.
---
Magazines
A monthly magazine in which we explore everything from self-development and health, relationships with family and friends, how to thrive in the workplace, to living in tune with nature.